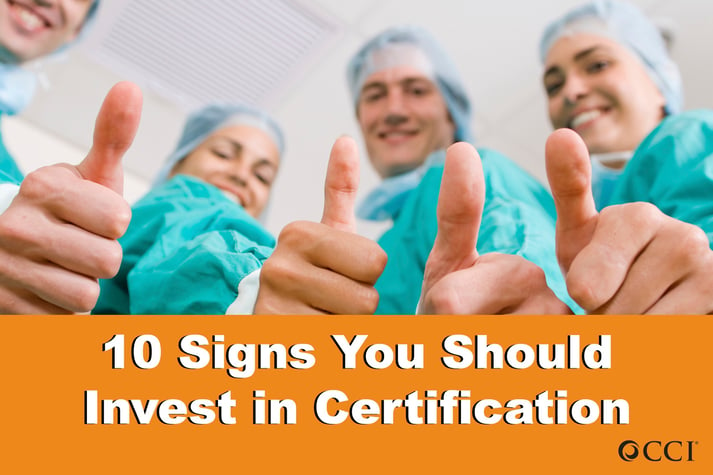 Certification is a pretty broad term; however, few truly understand the importance of certification and how it can benefit them personally. The ultimate goal of the various perioperative certifications CCI offers is to create a culture of patient safety and extraordinary care. Seen as an asset to the field of nursing, certification benefits the entire healthcare community-- from the patient and the nurse to the employer and hospital administrator. But why should YOU become certified as a perioperative nurse? Well here are our top 10 reasons why...
1. You ❤️️ Your Patients
You are a caring nurse who truly wants to provide the best possible care for your patients. As mentioned, the primary goal of certification is to create a culture of patient safety and extraordinary care. By investing in certification, you are committing yourself to enhancing the quality of care you provide.
2. You Want to Be the Best YOU
You feel a strong desire to refine your current practice by increasing the knowledge and skills important to your role. By successfully passing a certification exam, a nurse demonstrates their mastery of knowledge and their ability to apply that knowledge to their clinical practice.
3. You Don't Like Being Left Behind
You have a student-mentality and truly enjoy learning. You are dedicated to being a life-long learner and you wish to grow with the nursing profession. Maintaining certification requires ongoing effort including taking part in continued education opportunities.
4. You Are Part of a Team
The Senior Nurse Executive just reminded you that your facility is applying for ANCC Magnet designation. The CNOR credential is a Category A national certification for the ANCC Magnet Recognition Program on the scorecard.
5. You Just Got Passed Over for a Promotion…Again.
Earning and maintaining your credential shows dedication and self-motivation. A certified nurse has proven his or her commitment to patients and the profession. In addition, certified nurses earn an average of $2,100 more per year than non-certified nurses according to this 2015 study.
6. You Want to be Part of the Conversation
When attending the last strategic planning meeting, did you understand all the terms used? Preparing for a certification exam requires well-rounded knowledge of all areas of clinical practice. Additionally, many facilities look to certified nurses to be involved in decision-making processes as well as other special opportunities.
7. You Are Motivated
You are the only nurse who was not certified at the last leadership meeting, and you want to change that. According to the American Board of Nursing Specialties, all registered nurses should seek certification in their specialty area of practice, and as a self-motivated individual, you are ready to take that step.
8. You Like to be in the Know
You are concerned with remaining up to date on standards and best practice. CCI convenes question writing and review workshops throughout the year utilizing CNOR-certified nurses who work to create valid, statistically reliable exams that reflect current practice.
9. You Want to Stand Out
Aside from adding more letters to the end of your name, certification allows you to be recognized as a valued and contributing member of the perioperative profession. Facilities often allow for special opportunities given only to certified nurses, including attending events and conferences.
10. You Are Ready
You keep getting invitations to awards ceremonies for other nurses earning their certifications. On average, about 70% of the people who take the CNOR exam pass and you could be one of them.
As previously stated, the far reaching benefits of certification can greatly impact the care provided by nurses in the perioperative profession. Not only do certified nurses prove their competence within their profession but they also demonstrate a strong dedication to their field and commitment to their patients. From an internal desire to grow within the role to external pressure from a facility, there are many reasons a nurse should become certified. The question is, are you ready to take your practice to the next level?