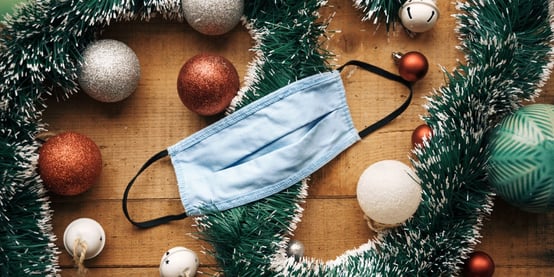 For everyone, but especially frontline workers, the holidays will look a little different in 2020. As a nurse, you may expect to work some holidays, but this year many find themselves without a choice due to understaffed facilities from COVID-19. Here are a few ideas for making the holidays a little merrier amid the chaos.
Stay Connected With Technology

2020 has been the year for connecting over video, and it's even more essential around the holidays. If possible, try to coordinate with coworkers so you can each connect with your loved ones during breaks, even the really short ones. We know it's not the same as being there in person, but a quick video call can help you feel a little more connected to those you love.

Add Decorations to Your Facility
Even if they're minimal, adding a few decorations can help add a little cheer to your facility. Have some extra decorations from home? Consider bringing them to your facility! Have kids at home? Make it a fun, creative activity by making a few decorations to hang up!
Prioritize Yourself When You Can
As a nurse, your focus lies on caring for others, so it can be challenging to find the time and energy for yourself. Self-care is imperative so you can feel your best and be your best for your patients. You can refer to our recent blog post for a few self-care ideas or consider these:
Seek out the help of a professional if you are struggling with your mental health. The American Nurses Association has several excellent resources designed specifically for nurses.

Spend a little time outside. Try taking a walk, eating a meal outside, or even stepping out for just a few deep breaths.

Ask for help when you need it. You may not realize how many people are happy to help if you just tell them how!
Utilize positive self-talk. You are doing a great job, and you deserve to hear it from yourself, too!
Treat Yourself to Something Special
It's still the year of the nurse, so you deserve a little extra this year! What better time to treat yourself? Treating yourself can be as simple or extravagant as you wish. You could splurge on a holiday drink from Starbucks or choose a nurse-approved gift from this gift guide!
Do Something Nice for a Coworker
'Tis the season of giving. Doing something to show your coworker you appreciate them can really boost morale in your facility. You can surprise them with a gift or write a note of encouragement. If you're in need of inspiration, check out this compilation of kind words written for nurses.
Give Yourself a Break This Holiday Season
What a trying year 2020 has been, especially for healthcare workers. Don't be afraid to cut yourself some slack this year. Give yourself the gift of less stress by walking away from those holiday traditions that weigh you down. You don't have to put up every decoration or make a single holiday cookie. 2020 is the year of no judgment.
As bleak as this holiday season may appear, the work frontline workers are doing is imperative and does not go unappreciated or unnoticed. There is no correct way to celebrate the holidays (or not), so choose what is best for you!
From all of us here at CCI, Happy Holidays. We hope you have a safe holiday season!