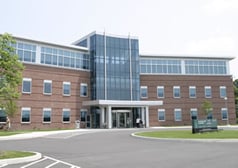 In the suburbs of Reading, PA there is a small borough in Berks County that is home to around 10,000 residents known as Wyomissing, PA. While this quaint town has plenty of charm, we are particularly interested because it is the location of the Reading Hospital SurgiCenter at Spring Ridge, one of two 2018 TrueNorth Award recipients. As a 2017 TrueNorth Award Honorable Mention, this facility was eager to continue toward excellence. Highly committed to supporting nurses through the process of certification, this returning applicant caught CCI's attention when they submitted an application even more impressive than the last.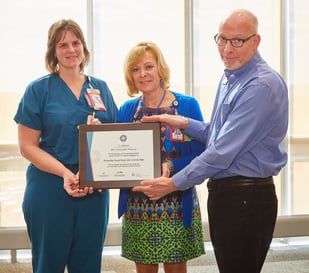 From the moment you enter the facility, it is clear that Reading Hospital SurgiCenter at Spring Ridge takes pride in the care provided by the staff employed. Plaques of all certified nurses line the walls of the large waiting room for all patients and employees to view. And with 100% certification rate among all eligible staff there is plenty to see. In addition to the publicly-displayed recognition, the facility hosts celebrations throughout the year honoring certified nurses, including an annual event on Certified Nurses Day. Additional support for nurses include pay incentives for those who earn certification. The aids Reading Hospital offers its nurses is a win-win as it in turn motivates the nurses to remain active in the perioperative community. All of the perioperative staff within the facility are members of AORN, while some additionally serve on the AORN board and office of their local chapters.
Aside from being active members of perioperative organizations, the certified nurses of the SurgiCenter at Spring Ridge remain involved in the community through contributing to articles and publications, presenting at conferences, and participating in research efforts. For instance, one certified nurse was a member of the Pennsylvania Safety Authority and Pennsylvania Department of Health Work Group for Standardization of Event Reporting from 2013-2015 leading to involvement in developing tenets for achieving a healthier, stronger Pennsylvania. Continuing to impact the field in 2015, certified staff members published an article for Becker's Review on "Four Tips for Introducing New Technology to Your ASC's Board" and another for Outpatient Surgery on "Advancements in Video Imaging". Another quality initiative the facility participated in was the ASCA's Agency for Healthcare Research and Quality (AHRQ) project which spread over a year's time, and had two components on Infection Prevention and Safe Surgery Checklists. Remaining highly active and involved in the perioperative community, the staff has recently been nominated for Nursing Innovation Awards for Electronic Health Records as they are the first in the country to have 4K video technology in the clinical area.
While encouraging an environment of motivated and involved perioperative staff, The Reading Hospital SurgiCenter at Spring Ridge has simultaneously created a safe environment for patients. Thanks largely in part to their high certification level, the facility has seen great outcomes. With a 0.1% infection rate, this TrueNorth Award recipient is able to consistently exceed the national benchmark in NDNQI's RN satisfaction and their peers in Press Ganey's Engagement each year. Contributing to these efforts includes the research completed by the Practice Council to develop a policy that makes the SurgiCenter at Spring Ridge's operating rooms 100% surgical smoke free, keeping patients, surgeons, and staff safe from hazards. In addition to low infection and complication rates, the facility has excellent physician satisfaction rates.
All of these accomplishments have led the facility to be recently recognized as a recipient of CCI's 2018 TrueNorth Award, acknowledging the facility's commitment to certification. Proud of their previous achievements but determined to do more, The Reading Hospital SurgiCenter at Spring Ridge continues to strive towards improvements in the level of care provided by the facility.

CCI developed the TrueNorth Award to recognize those organizations that use CNOR certification as a "true north" to guide their perioperative nursing staff to be lifelong learners, models of competent practice, and advocates for excellence and patient safety.
Editor's Note: This post was originally published on April 11, 2017 and has been updated for accuracy based on the facility's 2018 TrueNorth Award recipient status.