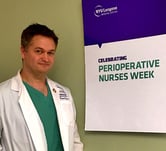 Did you know you wanted to be a perioperative nurse even before you entered the profession? David Irby sure did. From his first exposure to perioperative nursing at the young age of 16 as a Junior Volunteer, he found himself intrigued. A few short years later, David gained more exposure to the OR through clinical rotations at the University of Virginia, and knew he had found his calling. By his senior year, David was eager to participate in a month-long Practicum in the area he was most interested in, and spent a month with one of his mentors in thoracic surgery.

Perioperative nursing stood out from the other areas of the medical field David was exposed to. He enjoyed the idea of working closely with surgeons, seeing the latest technological advancements in the field, and he appreciated the immediate benefits the surgical team could provide to a patient. Feeling prepared and excited, David dove into his career after graduation and began his professional journey providing relief and ease to his patients. Since entering the field, David has traveled to Guatemala twice as part of medical missions which provided some of the greatest memories from his career. The work was challenging on these trips, as the team worked long hours and needed to remain flexible in an unfamiliar environment. While these opportunities sharpened his practice and created a more experienced nurse, the memories of the patients served were the true takeaway. David recalls a two year old boy who came to them with bilateral cataracts. Living his first two years of without developing vision, David and his team saw an immediate change post-op. The mother of the boy was so thankful to the team, reporting he was no longer bumping into things and had begun to reach and grab his toys on his own. This is one of the many memories David has, confirming his choice for a career in the service of others was spot on.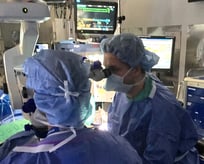 Aside from practicing perioperative nursing in South America, David has had many roles throughout his career including staff member, travel nurse, guest lecturer abroad, and now as a resource to his fellow colleagues holding the title of Senior Nurse Clinician & Clinical Resource Nurse at NYU Langone Medical Center, ACC3 Ambulatory Surgery Center. After experiencing such a wide range of roles in the OR, being part of such a great healthcare center has become one of David's greatest professional achievements. Working in a facility that creates an encouraging environment for employees is rewarding and has allowed David to continue his professional development. Feeling appreciated by his facility for the important service his team provides to patients serves as a daily reminder of how important their work really is.
In addition to the support offered by his facility, David has kept in touch with his mentors for nearly 20 years. These mentors took an interest in David's career early on and truly cared about his success. Three mentors in particular became a resource to David as his go-to's when he was unsure of content he was learning, or had doubts about his own capabilities and needed encouragement. These mentors guided David through the difficult times including his first 6 months of the OR, when he was having second thoguhts about his career choice. Feeling forever grateful to those who helped him, he highly encourages all new nurses to seek out an experienced colleauge who can offer mentoring and important insight to the OR. In his current role, David continues to pay it forward serving as a resource to his teammates and offering support when needed. Taking a page from the book of those who once helped him, David attempts to bring their teaching styles to life and has established an open door policy with his team. His hope is that one day his colleagues will look back on their own career, remembering the positive impact he had on the way they molded their own nursing practice.
The support and knowledge shared over the years has allowed David to grow an appreciation for continued learning, eventually leading to his interest in certification. With such a strong desire to challenge himself and to become a better clinician, David has continued his professional development through the process of certification. Reflecting on the accomplishments he's achieved, David is motivated to continue his career servicing others and making a difference in the field through the people he touches - patients and colleagues alike.