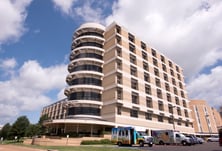 Once a year CCI offers CNOR grants through the AORN Foundation to both individual nurses and facilities in support of certification efforts. CCI is always eager to learn about the recipients, and we are proud to feature Batson Children's Hospital as this month's Hospital Highlight. As the only medical facility in Mississippi dedicated solely to children and adolescents, this facility has worked hard to create a high standard for the care provided within. Eager to continue to make strides in the quality of care provided, the Batson Children's Hospital, part of the University of Mississippi Medical Center, is ready to put the 2017 CNOR Grant received earlier this year to use.
The facility was named after Dr. Blair E. Batson who, at age 34, was the first chairman of pediatrics at the University of Mississippi Medical Center (UMMC), serving from 1955-1989. Many refer to Dr. Batson as the grandfather of pediatrics in Mississippi, and rightfully so. Throughout his career, he taught more than 3,500 medical students and 240 pediatric residents. Remaining true to its namesake, Batson Children's Hospital continues to impact many lives by providing exceptional pediatric care to local patients in need.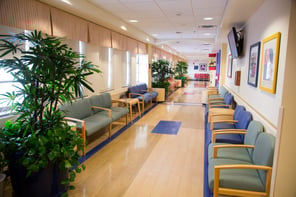 The hospital, clinics and emergency rooms treat approximately 80,000 children a year from Mississippi's 82 counties. This care includes everything from common ailments to serious trauma and chronic illness. Batson Children's Hospital has some30 specialty areas, as well as the state's only pediatric intensive care unit. Twenty years old this year, Blair E. Batson Children's Hospital has not wasted any time making improvements when needed. In 2002, the University of Mississippi Medical Center broke ground on new pediatric surgical suites. This two-story addition to the current hospital houses inpatient and outpatient surgical areas, several labs, and a dental clinic, and now efforts are underway to expand and update pediatric care at UMMC again. The campaign for Children's of Mississippi, a $100 million fund drive, will fund construction of private rooms for patients in the neonatal intensive care unit, more beds in the pediatric intensive care unity, additional surgical suites, a pediatric outpatient clinic, and an imaging center designed for children. Children's of Mississippi is the umbrella organization that includes Batson Children's Hospital as well as all UMMC pediatric care. In its first year, the campaign surpassed the halfway point toward reaching its goal.
Other efforts to improve the patient experience can also be seen through the Eli Manning Children's Clinic. This state-of-the-art facility has become a crucial resource in serving more than 75,000 Mississippi children. Specialists and pediatricians work together in the clinics to provide a wide variety of services to meet the needs of the surrounding communities. Designed for ultimate functionality and comfort, the walls of the clinics cater to their young patients with joyful art and bright colors.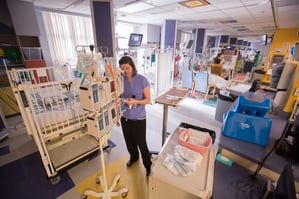 In addition to renovations including the latest technology and equipment, Batson Children's Hospital offers exceptional care through the staff and professionals it employs. While the facility is determined to recruit the best and the brightest, it also takes care of its employees once they are hired. By supporting staff and helping them grow, they have created an environment full of team players and passionate professionals. One such professional is Hailey Moore, BSN, RN, CNOR, Nurse Educator of Children's Perioperative Services, who took it upon herself to apply for the CCI/AORN Foundation CNOR Grant on behalf of her facility. By taking this initiative, she has successfully secured $3,000 in funds to support the certification of nurses within the perioperative department. Hailey wrote a letter to CCI to express gratitude for the grant received, expressing how it will contribute to the professional goals of the nurses on staff while ultimately positively impacting patient care.
Committed to continuing a trend of improvements, and striving to provide the best possible care, Batson Children's Hospital has established the The Family Advisory Support Team (FAST). Dedicated volunteers join for monthly meetings to provide unparalleled insight on the needs of patients and their families, helping to shape improvements to services and the patient experience. Considering the physical changes to infrastructure, the support offered to staff, and the desire to receive feedback, Batson Children's Hospital will undoubtedly continue to provide the children of Mississippi with exceptional care.