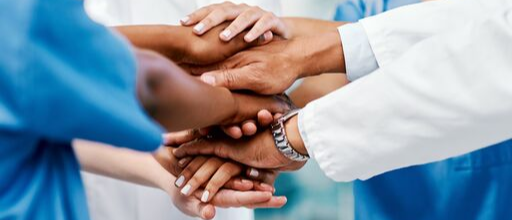 Company culture refers to the shared vision, values, and behaviors that define the workplace environment. A positive company culture can make employees in your organization feel fulfilled and delighted about their job. Creating a desirable and healthy company culture is essential in any organization, but it proves to be particularly beneficial in the OR.
1. Improves Teamwork
Communication serves as a foundation for many organizations. When effectively executed, it ensures all employees can achieve the shared result successfully. The most critical component of working on a team is communication. As the saying goes, "teamwork makes the dream work." When team members in the operating room and other healthcare professionals can communicate openly, the overall performance of the facility increases. Strong company culture encourages team members to converse openly, honestly, and work as part of the team. As stated in an article published by OR Manager, "OR staff must be encouraged to speak up to their peers, to physicians, and other healthcare colleagues without fear of being blamed" (OR Manager, 2019). A culture focused around teamwork and community makes nurses feel more connected to their peers and more fulfilled in their jobs overall.
2. Nurses Become Advocates for the Facility
Generally, people like to feel celebrated and appreciated at their job, especially when working in stressful environments like the OR. When hard work is recognized, and employees possess a sense of accomplishment, they soon become advocates for the facility. They not only contribute to the overall success of the organization, but they also promote it. The number of patients and exceptional employees engaged with the facility can increase when employees act as advocates for their organization.
3. Creates a Productive Environment
According to a survey conducted by The Alternative Board (TAB), 86% of respondents agreed that company culture helps with productivity (The Alternative Board, 2019). Productivity is impacted by company culture because of the mindset of the employees. When each member of the OR staff feels fulfilled and satisfied in their position and confident enough to communicate openly with colleagues, the environment becomes more productive. Todd Davis, the chief people officer for Franklin Covey, states, "Strong productivity is the result of many things, but at its foundation is a winning culture. The greater the culture, the more productive people will be because they are engaged. Human beings excel when they are happy and doing what they enjoy" (Harbour, 2018).
4. Employee Retention
Hiring and training new employees in any organization is a daunting and time-consuming process. In the operating room, it can be even more costly and stressful due to concerns about patient safety. Retaining quality employees is the easiest way to reduce nurse turnover and lower the need for new employee training. The overall quality and efficiency of the operating room drastically improves when most of the staff consists of experienced OR nurses. Besides, employees who stay with their employers for an extended period can contribute to strengthening the company culture.
5. Patient Safety
The most important reason for improving company culture is the overall impact it can have on patient safety. Above all else, the operating room needs to establish a culture of safety, and communication and teamwork are the foundation for that. Rachel Fields mentions in an article published by Becker's Healthcare, "Every team member should be able to point out a problem, and every team member should pay attention when someone else speaks" (Fields, 2011). When team members feel connected, they are more likely to respect each other's ideas and are more eager to see their colleagues succeed. Additionally, retaining employees who have more experience in the field increases safety because they have a deeper knowledge of the proper practices within the operating room and facility.
All in all, company culture shifts from facility to facility and is generally dependent upon those who make up your team. We can genuinely say that happy and fulfilled employees lead to more enjoyable and productive work environments with safer patients.
References
Fields, R. (2011, May 18). 6 Essential Components of a "Culture of Safety" in the Operating Room. Retrieved from Becker's Healthcare Website : https://www.beckersasc.com/asc-quality-infection-control/6-essential-components-of-a-qculture-of-safetyq-in-the-operating-room.html
Harbour, S. (2018, February 28). Company Culture is Linked to Employee Productivity . Retrieved from Workest : https://www.zenefits.com/workest/company-culture-linked-employee-productivity/
Moseley, C. (n.d.). 7 Reasons Why Organizational Culture is Important . Retrieved from Jostle : Mosblog.jostle.me/blog/why-is-organizational-culture-important
OR Manager. (2019, April 20). Culture Change: The best defense against communication failures . Retrieved from OR Manager Website : https://www.ormanager.com/culture-change-best-defense-communication-failures/
Swensen, S., & Mohta, N. (2019, April 4). Leadership Survey: Organizational Culture Is the Key to Better Health Care . Retrieved from NEJM Catalyst : https://catalyst.nejm.org/organizational-culture-better-health-care/
The Alternative Board . (2019). Pulse Survery: Business Leaders and Productivity . Retrieved from The Alternative Board Website : https://www.thealternativeboard.com/pulse-survey-business-leaders-productivity