Parker Adventist Hospital is one of the 2018 TrueNorth Award Honorable Mention recipients. Located in Parker, CO, this recently designated Magnet facility is dedicated to providing a supportive environment for nurses both pursuing certification and those that have already earned the CNOR credential.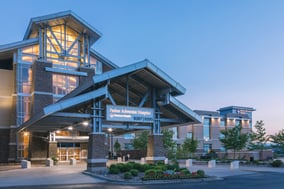 Parker Adventist Hospital understands that there may be barriers for nurses that prevent them from pursing certification. In response, they have implemented many practices to assist nurses as they work towards this goal. For example, one of the most common barriers to achieving certification is financial. To assist nurses with this hardship, once the nurse passes the exam the facility offers reimbursement of certification fees. Once certified, nurses see a continuing benefit through a pay differential. In addition to financial support, Parker Adventist offers numerous resources to their staff to assist them in preparing for the CNOR exam. Resources include exam prep products such as review books nurses can borrow and electronic access to the AORN Guidelines for Perioperative Practice.
Staff support is another important resource utilized at Parker Adventist Hospital to garner increased certification rates. Both the OR educator and the assistant nurse manager provide mentoring to potential candidates and newly certified nurses. Furthermore, the facility provides recognition to nurses who achieve this professional accomplishment. Newly certified nurses receive an updated identification badge with their added credentials, participate in departmental celebrations, are acknowledged in hospital-wide newsletters, and their names are added to a publicly-displayed recognition plaque.
The recognition given to certified nurses has motivated them to stay involved in the perioperative community. Certified nurses at Parker Adventist Hospital have presented posters and speeches at the local and national levels, including at the 2017 AORN Global Surgical Conference and Expo. CNOR nurses have also lead an evidence-based project on spirituality consideration for families of patients undergoing surgery. The perioperative departments projects, including room readiness, instrument processing workflow, and inventory reduction among others, are all facilitated by certified nurses.
The drive and determination to deliver exceptional patient care by the certified nurses of Parker Adventist Hospital does not end with evidence-based projects or hospital procedures. Certified nurses are also active in their community. They recently developed a fundraiser to benefit a first responder injured in the line of fire who was treated at Parker Adventist's OR. Additionally, nurses host health awareness services and events provided by the hospital.
Parker Adventist Hospital proudly supports nurses pursuing certification and currently CNOR certified nurses which creates an encouraging environment for all.