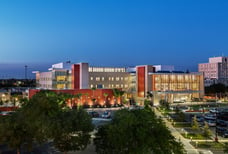 According to a recent study by WalletHub, Florida is the best state for military retirees as it received high rankings in economic environment, quality of life, and health care. One of the VA health care facilities located in the sunshine state is James A. Haley Veteran's Hospital (JAHVH), this month's Hospital Highlight. A teaching hospital, this facility offers a wide range of services, is equipped with latest technology and participates in many educational and research opportunities. Supporting certification with the help of the facility's CNOR Coach, JAHVH is committed to encouraging their perioperative staff to advance through continued education and achieved competencies ensuring the highest quality of care is provided.
James A. Haley Veteran's Hospital employs more than 5,000 hard-working healthcare providers, nurses, administrators, and staff all with the ultimate goal of providing high quality care to the surrounding veterans community. JAHVH provides care for more than 93,000 of our nation's heroes through their five Veterans Health Administration facilities in Central Florida, covering four counties. Striving to increase the quality of care of Veterans Affairs (VA) facilities, JAHVH is working hard to ensure the facility is on track to contribute to one of the
top priorities of the VA
- having all eligible veterans receive health care from VA because they
choose
to. Part of these efforts include the hospital's ability to be among the first VA facilities to offer same-day services, providing care to vets with immediate needs the same day whether it is in person, over the phone, or through the pharmacy. To meet the demand of care needed, JAHVH offers the opportunity to schedule a procedure with one of more than 200 additional, outside providers contracted through the Veterans Choice program if they cannot schedule a needed procedure at JAHVH within 30 days.
To ensure the care offered meets the highest standards, JAHVH employees frequently take part in training opportunities in all areas of care. In their most recent training activity, the Emergency Management team, Public Affairs Office and other staff members participated in an inter-agency drill named Operation Sunshine Endeavor, to prepare all for an emergency response in case of a hurricane. In addition to the training and continued education opportunities provided, JAHVH shows appreciation for their nurses by offering perks such as the chance to work with a Healing Touch Practitioner. Volunteers came to the facility during National Nurses Week last month to help fellow nurses rest, refresh and alleviate pain. The goal was not only to allow the nurses to relax and focus on their own health, but to also learn the impact of a healing touch to provide the same care to the veterans they serve.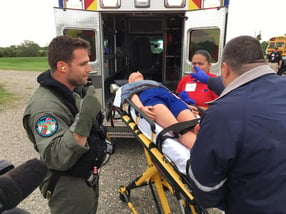 James A. Haley Veteran's Hospital supports the veteran's community through the health care they provide as well as participating in many community events and stepping in when there is a need. For instance, there was a recent bed bug outbreak in a Tampa homeless shelter which led to the facility being temporarily shut down. This displaced hundreds of homeless people, including veterans, so JAHVH stepped in offering 33 available beds to veterans in need while the shelter was closed. In addition, the facility will host their 6th Annual PTSD Awareness Day this month, providing information on PTSD as well as the various treatment options available, educating veterans, their family members, and the community. Other events, like VA Research Day, allows those interested to speak with VA researchers about recent projects, which may include topics from Gulf War Illness to preventing suicides and wheelchair falls.
Nurses everywhere work tirelessly to provide the best possible care to those in need, including our national heroes. Thanks to the continued efforts of James A. Haley Veteran's Hospital, the care provided to the veteran's community surrounding Tampa, FL is of the highest standards. Supplying nurses with training opportunities, participating in research, and showing their employees appreciation and support are just a few of the ways they keep their staff and patients safe, happy, and healthy.