Amelia Earhart once said, "The most effective way to do it, is to do it." Tabitha Stutts Kinlaw, seems to agree. Since the day she stepped foot into the operating room, she has been a go-getter. A perioperative nurse for 25 years and certified as a CNOR since 1995, Tabitha has practiced as a staff nurse, orthopedic surgery coordinator, charge nurse, assistant director, and educator in the operating room. Tabitha continues her success as a Nursing Professional Development Specialist and the Primary Nurse Administrator of the Approved Provider Unit at First Health Moore Regional Hospital in Pinehurst, NC--the same hospital she was born in.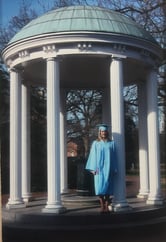 Tabitha began her perioperative career as a new RN graduate upon completing her ADN at Sandhills Community College. While in school, her aunt, Connie Snuggs, a perioperative nurse for many years, encouraged her to consider the specialty. At the time, perioperative nursing was not routinely included in nursing curriculum other than a brief overview, so Tabitha took it upon herself to seek out various shadowing opportunities in the OR to gain exposure and learn more. Immediately she knew that the specialty of perioperative nursing would become her lifelong career. As a recent graduate with her new-found passion burning inside, Tabitha gladly accepted a position in the OR at FirstHealth Moore Regional Hospital in Pinehurst, NC, and completed a 9-month orientation program. This strong foundation led to a successful career serving many roles within the OR.
Shortly after meeting the eligibility requirements, Tabitha sought CNOR certification and has held the distinction ever since. Intrinsic motivators were the driving forces behind obtaining and maintaining certification for Tabitha. Seen as an avenue by which to validate competency as well as demonstrate commitment to perioperative nursing, she was eager to become CNOR-certified. Tabitha explains that patient safety and quality care are at the core of perioperative nursing— with a direct link between certification and that care. She views certification as a step beyond licensure, which demonstrates specialized knowledge. She believes it is part of the duty of individual nurses to each take the lead in advancing patient safety and the quality of patient care.
Proud of her commitment to her patients, Tabitha also maintains her certified status to serve as a role model for her peers. Earning the CNOR designation has been one of the most rewarding moments of her career, and maintaining the credential has supported her drive for continued education. Passionate about life-long learning, Tabitha collaborates regularly with leadership, staff, and other healthcare personnel to provide educational opportunities; and assists with developing resources that support the delivery of safe, quality perioperative care. Outside of her facility, she visits local colleges to encourage and motivate others to enter perioperative nursing and ultimately seek certification. As a CNOR Coach, encouraging and supporting staff in obtaining certification allows her to promote the three pillars of competency, certification, and lifelong learning.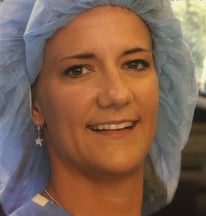 Active in the perioperative community, Tabitha has been a long-time member of AORN. In 2004, she decided to take her professional practice a step further by actively serving in various capacities within her local AORN Chapter, including Congress Delegate as service on the Board of Directors. From this point, her passion for volunteer service only grew. Over the last decade, Tabitha has served on a variety of CCI's test development committees, lending her expertise to develop future CNOR and CSSM exams. She currently volunteers as a nurse peer reviewer for the Accredited Approver Unit of the North Carolina Nurse's Association (NCNA), and is an active member of various nursing organizations including the Association of Nursing Professional Development (ANPD), and American Nurses Association (ANA).
Tabitha's thirst for lifelong learning has continued academically as well. In 2006, she obtained her BSN from the University of North Carolina at Chapel Hill, where she was inducted into Sigma Theta Tau International - Alpha Alpha Chapter. Most recently, she obtained her master's in nursing with a concentration in nursing education from East Carolina University in Greenville, NC.
With such an exciting and eventful career, Tabitha had a hard time picking a favorite memory. She explains that even after years of service, the professional of perioperative nursing continues to offer memorable experiences. Tabitha is thrilled by the fact she is able to continue to learn and grow within her profession. When asked how she handles it all professionally while maintaining a healthy work-life balance, Tabitha is quick to mention her support system. While a strong passion and enthusiasm for life-long learning drives her, she admits much of her success is due to the fact that she is surrounded by a loving, supportive, and understanding family along with an encouraging facility and co-workers.
Tabitha currently serves as a Nursing Professional Development Specialist and the Primary Nurse Planner/Administrator of the Approved Provider Unit at First Health Moore Regional Hospital in Pinehurst. Tabitha remains active in the perioperative community as a member of CCI's Board of Directors and CNOR Coach.