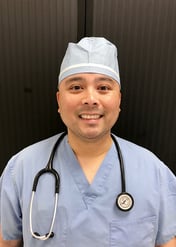 As you may know from this month's Hospital Highlight, VA Southern Nevada Healthcare System (VASNHS) is a facility highly motivated and driven to work with certified nurses. In fact, since the activation of the facility in 2013, manager at VASNHS, has been pushing towards a goal of 100% staff certification. Understanding the challenge ahead of him, Mr. Gergory Clark, RN, MS, CNOR turned to one of the certified nurses on the team to act as a CNOR mentor of the facility to assist peers in earning certification. Today, perioperative nurse Ernest Macasieb, BSN, RN, CNOR, has been the CNOR mentor of VASNHS for two years, continuing the collective goal of 100% certified staff. It is no doubt that Ernest is a hardworking, dedicated, and extremely passionate nurse making him a perfect feature for this month's Nurse Spotlight.

Mr. Clark knew Ernest would make an excellent CNOR mentor because his passion for what he does is undeniable, and his concern for his patients' well-being is truly inspirational. Ernest explains that he loves having the opportunity to be the patient advocate and looks forward to the challenges he faces in the operating room, including finding ways to always ensure a safe and efficient procedure. He recalls an emergency procedure that was performed on an elderly patient who had come into the facility with a ruptured abdominal aortic aneurysm. Fortunately, the surgery was a success and they were able to save the man's life but the story doesn't end there. Seven months passed when the man, accompanied by his wife, returned the facility, this time on his own terms. The couple came back to personally thank, and hug, each member of the team who saved his life. Humbled by the experience, Ernest remembers the man's sincere appreciation as daily motivation to offer the best possible care.
Each day as he enters the hospital, Ernest takes a moment to reflect, considering how he will make a positive difference in his patients' lives. His goal is that each patient will leave the OR in a better condition than which they entered. As many nurses have seen, the effects of anxiety, pain, and suffering can be just as damaging to a patient as any ailment. Earnest makes it his daily goal to be the "change" in a patient's experience that eases their anxiety, pain, or suffering. It is his personal challenge to have everything run as efficiently and effectively as possible in the operating room each day, in every case, with every patient. However, Ernest is very aware he could not be effective or efficient in the OR without the support of his team.
Truly a collaborative effort, no surgery could be successful without the contribution of each individual; from the anesthesia provider, to the surgeon, to the scrub technologist, to the circulating nurse. To ensure the best outcome, they all have to work together to provide the highest quality of care possible, which includes preparing staff outside of the OR. At the time of his appointment, the majority of the staff was certified and Ernest had only a few individuals to work with to achieve their goal of 100% certification. However, as time passed and needs of the organization shifted, an opportunity was presented as VASNHS was looking to get more nurses into the perioperative department. To support this effort, Ernest worked with a team to develop and implement the "Grow Your Own" (GYO) OR RN program for existing nurses who are interested in becoming perioperative nurses. With the support of two other certified nurse preceptors, Ernest runs the 22-week training program that effectively prepares currently registered nurses to provide safe, effective patient care while increasing the efficiency of the OR.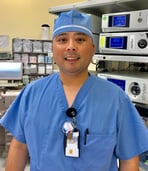 In addition to supporting new nurses in their efforts to gain access to the OR, Ernest has a strong desire to help veteran nurses advance their practice as well. Still working towards the original goal of 100% certified staff, Ernest implemented a CNOR certification study and support group. The group meets twice a month to discuss reasons why nurses should get certified, steps for applying and taking the CNOR Exam, expectations involved, fees associated, and best strategies on how to prepare. If that weren't enough support for his peers, Ernest also provides step by step assistance to staff members in exam registration and scheduling.

With 16 year's experience as a registered nurse, Ernest feels as though he is currently living the greatest accomplishment of his career. With a belief that his career is a culmination of moments that make him the nurse he is today, he is confident each moment he continues as perioperative nurse will present an opportunity to add to his skillset and augment his knowledge base. Ernest explains that working for the Department of Veteran Affairs has been a tremendous honor and privilege. Serving those who have sacrificed so much for our way of life, he and his colleagues share this passion each day they are able to meet the needs of the multi-generational men and woman who are the heroes of our country.
Through his work ethic, dedication, and sincere enthusiasm around providing exceptional care, it is easy to see that Ernest has greatly supported the efforts of VASNHS, impacting the surrounding community of veterans. We applaud Ernest for his passion and extreme commitment to improving the quality of care provided by himself and those he works with. Ernest is eager to continue his efforts as a CNOR mentor, and aspires to become a CNOR Coach next year.