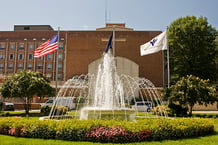 Certification is defined as the process of providing an individual with an official document attesting to a status or level of achievement. Certification is used in the perioperative profession so nurses may demonstrate their mastery of knowledge in surgical nursing, and their ability to apply this knowledge to their clinical practice. With a goal to create a culture of patient safety and extraordinary care, certification benefits the entire healthcare community from the patient to the nurse to the facility. A 2017 TrueNorth Honorable Mention and this month's Hospital Highlight, Bon Secours St. Mary's Hospital, is highly aware of these benefits and in return works hard to motivate nurses to become certified within the facility.
At Bon Secours St. Mary's Hospital, encouragement of certification is facility wide, starting with human resources. The HR department encourages and assists eligible nurses to pursue at least one professional nursing certification, such as the CNOR. Certification is considered an asset to the nurse's competencies and promotes positive patient outcomes. The hospital works toward, an organizational goal of achieving 35% certification among all eligible nurses facility-wide. Currently at 58% CNOR-certified, the perioperative department at Bon Secours St. Mary's Hospital is leading the way and has moved the department percentage forward approximately 10% each year. Departmentally, the OR is currently working towards a goal of 75% CNOR certification by 2018. To support these goals, the facility has worked certification into the clinical ladder structure and created a reimbursement program for the professional certification of employees. Nurses complete a "Professional Certification Reimbursement Application" which is reviewed with a manager to ensure the certification is pertinent to the nurse's specialty area. To further support professional development, the facility created an unique program titled "Nurses for Good." This program is designed as a giving circle that allows nurses within the facility to donate funds to support lifelong learning at Bon Secours St. Mary's Hospital. Grants and monies from this program have allowed for an online and physical lending library to be available to all nurses, and has also funded study groups and review courses.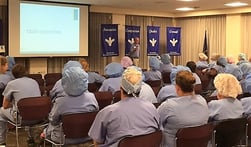 In line with facility efforts, the surgical department works to ensure nurses have access to resources to prepare for and take the CNOR exam. For example, as a previous participant of CCI's Take 2 Program, Bon Secours St. Mary's Hospital has had 25 nurses become CNOR-certified through the program since 2014. While all CNOR-certified nurses within the facility are considered peer champions and actively encourage other nurses to attain certification, the perioperative educators have been especially active in certification efforts. As a requirement, all perioperative educators are CNOR-certified to ensure the highest quality of education, adherence to best practices, and the use of evidence-based nursing in the OR. Educators are dedicated to working with nurses one-on-one, and also spread awareness department-wide by posting promotional materials provided by CCI. In addition, perioperative educators host in-service education opportunities covering topics based on new/updated policies, organizational requirements, or that have been requested by staff. Currently educators are planning for future review courses to increase certification and help reach their goals.
Aside from supporting nurses obtaining certification, Bon Secours St. Mary's Hospital does a great job celebrating certification once achieved. When a nurse within the facility obtains certification, a note congratulating the certificant is sent via postal mail, and an announcement is made to the team with a pin awarded during the "huddle" prior to the start of a shift. The manager also sends a list of all newly-certified nurses to be included in the hospital newsletter. All certified nurses are easily identified within the facility as credentials are clearly listed on employee badges. Additionally, the surgical services department has created a "Wall of Fame" which displays certification plaques along a prominent hallway. The establishment of the certification plaques and recognition wall has encouraged CNOR certification to continue to increase among staff. Behind the scenes, certified nurses earn points in the Professional Nurse Advancement Program (PNAP) which are used as incentives to encourage and reward nurses for certification, and provide opportunities for professional growth and development.
Through the practices, policies, and procedures in place it is clear the 2017 TrueNorth Honorable Mention Bon Secours St. Mary's Hospital values certification. From human resources to individually certified nurses, this facility works hard to encourage professional development and growth through certification. With two nurses already applying for the 2018 CNOR Coaches' Program, it looks like Bon Secours St. Mary's Hospital is enthusiastic to continue efforts toward their certification goals.