Beth Bozzelli, MBA, RN, CNOR, CSSM, has maintained a successful perioperative career for more than twenty years. She has experience as a Director of Surgical Services, Division Clinical Manager, and Associate Vice President OR Supply Cost Management. As a high school student working at a physician's office, nurse leader Beth Bozzelli discovered her passion for the perioperative profession early in life. Today, she maintains that same drive as the Director of Surgical Services for Operations for HCA Healthcare.
Beginning her career in high school, she enjoyed watching the interactions of the patients and nurses at the physician's office where she worked assisting the front desk and filing. Exposure to healthcare at a young age allowed her to find her calling early and once she graduated nursing school she went straight into the OR. Beth has always enjoyed the hands-on aspect of nursing and finds comfort in knowing she can be a voice for patients, advocating for them when they are at their most vulnerable. The technical components, critical thinking, fast-paced environment, and the relationship with the surgical teams are all things she truly loves about providing care in the perioperative field.
In addition to her many leadership roles, Beth has worked as a circulator, board runner, OR analyst, surgical services director, AVP for supply chain in the OR, and perioperative consultant. The experience and perspectives gained from these roles has allowed Beth to become a well-rounded nurse leader. In addition, she has earned both the CNOR and CSSM certifications, passing both exams in a six-month window. Certification has given her credibility among her peers and enables her to remain up to date on current practices in patient safety. Beth is driven by her commitment to her practice and the nursing profession.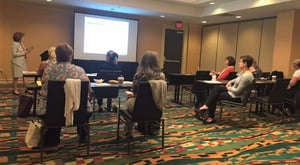 Working in the perioperative field for more than 20 years, Beth has become keenly aware of the importance of shared knowledge. She encourages perioperative nurses to speak with others in their department to learn and share expertise. She explains that many nurses in the perioperative field are approaching the age of retirement, but these nurses have a tremendous amount of knowledge that would be beneficial to others. Surgical services are no longer on the curriculum of many nursing programs, so she urges her peers to have a voice on the importance of perioperative nursing and knowledge transfer. Beth also encourages her perioperative peers to remain open to change and willing to step out of their comfort zone. She recognizes the important lessons she learned by earning her MBA in Strategy and Management, which allowed for an alternate perspective to management as it relates to the operating room.
While Beth has experience in many areas of perioperative nursing, and has invested in continued education throughout her career, she finds it most important to remember that the patient always comes first. She encourages perioperative nurses to stay committed to always acting in the patient's best interest. She never wants to lose sight of why she went into nursing or who is at the receiving end of her care.
When you're a nurse, you know that every day you will touch a life or a life will touch yours. - Anonymous