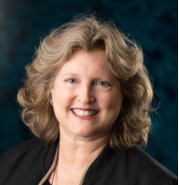 This month we honor CCI's board president, Marie H. Paulson, RN, BSN, MS, CNOR, CSSM, CPPS. Marie is a highly motivated and engaged perioperative leader who is committed to impacting the perioperative field through promotion of certification. CCI has benefited from Marie's involvement for many years, as she's given of her time and talents through service on numerous CCI committees, and board leadership positions.
Nursing has always come naturally to Marie. She has a true nursing spirit and enjoys the honor of caring for patients who cannot care for themselves. Beginning her journey with an AD in Nursing followed by a BS in Nursing, Marie was quickly drawn to the operating room and excited by the clinical side of the perioperative specialty. Once she found her way into the OR, Marie knew she was there to stay. The teamwork and comradery in addition to the technical challenges intrigued Marie and left her curious to learn more.
Marie gained experience in the operating room early in her career working as a RN first assistant, an educator, and OR head nurse. The knowledge she gained from these different roles led her to pursue CNOR certification, which she has maintained for almost 30 years. Marie continued her education and professional development, earning a master's degree in Science, Health & Human Sciences Management. She later earned her CSSM (Certified Surgical Services Manager) and CPPS (Certified Professional Patient Safety) certifications. In addition to obtaining certification and pursuing higher education, Marie notes that the time spent teaching perioperative nursing greatly helped keep her knowledge and skills current over the years.
Marie has continuously been recognized by organizations for her hard work and achievement. For instance, she has received Kaiser Permanente's Exceptional Contribution Award and Innovation Award for Technology. She has also been the recipient of grants for projects she managed within Kaiser Permanente. Marie is a strong perioperative patient safety advocate, leading the Culture of Safety work for Kaiser Permanente in Southern California, responsible for the "Safety Check" process and helping to redesign the Highly Reliable Safety Team.
Marie's main motivation has always been her patients. Every day she is eager to do what she can to ensure patients continue to live a full and productive life with their friends and families. Her experiences in the OR have led her to encourage other nurses to pursue perioperative nursing. She finds it to be an extremely rewarding career path due to the challenging and exciting cases one faces in the OR.
Today, Marie works as the Director of Quality, Patient Safety, Risk, and ARL at Kaiser Permanente San Rafael. Focusing on system wide risk management, patient safety and quality initiatives among other tasks, Marie is able to continue to directly impact the care provided within her facility on a large scale. Please join us in welcoming Marie to her post as CCI Board President, we are excited to see the further contributions she will make to the field of perioperative nursing.