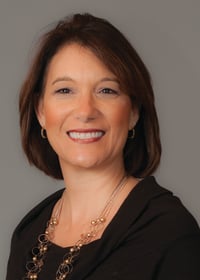 When asking perioperative nurses what they love about the profession there are a few popular answers we have heard more than once. Two of the most common responses include the opportunities for specialty practice within the OR as well as being an advocate for the patient when they need it most. These two aspects, along with several others, first drew Christina Dempsey to the operating room more than 30 years ago.
While Christina eventually found her calling as a perioperative leader, she did not always know this would be the path her life would follow. In high school, Christina wanted to become a journalist. However, when it came time to go off to college, she decided to stay behind; reluctant to leave her boyfriend. Staying home she followed in her mother's footsteps and decided to enter the world of nursing. Looking back, she knows she made the right decision as she reflected on her rewarding 32-year career and 35-year marriage.
The opportunities in perioperative nursing initially drew Christina to the profession. Having the chance to work with patients before, during, and after a procedure excited her and she was not disappointed once she began. Christina quickly became aware of the vulnerability of patients in the OR as well as the anxiety they endure as they prepare for a procedure. The circulating nurse always has the patient on top of mind, focusing on the best possible outcomes for the case.
After several years in the perioperative setting, Christina decided it was time to explore her options for advancement in the field. Remembering her grandfather's words, "there's no point in doing something if you aren't going to be the best," she decided she would aim to become CNOR-certified. At the time she was looking to increase her credibility and validate her experience as a perioperative nurse. She became a CNOR-certified OR Manager in 1996, and has continued to maintain her certification to this day. Motivated by demonstrating excellence, she states it has been important to her to maintain the certification and continue to grow her skill set.
Spending more than three decades in the health care setting, Christina has held roles including nurse, perioperative nurse, emergency services manager, supply chain and materials manager and more. Today, she is the Chief Nursing Officer at Press Ganey, a company dedicated to supporting health care providers in improving the patient experience. In her current role, she leads the Press Ganey team to enhance engagement between employees and patients, improving quality and efficiency within facilities. Incredibly, she has helped some of her clients achieve such milestones as reducing wait times, significantly increasing patient experience scores, improving teamwork, and increasing efficiency through scheduling, staffing, and data integration.
In addition to these accomplishments, Christina has written a book, The Antidote to Suffering, which will be released next month. She explains that the key to improving healthcare is to reduce the suffering—physical, psychological, and emotional—of patients and caregivers alike through Compassionate Connected Care. Christina offers a comprehensive, detailed, evidence-based plan that addresses the clinical, operational, cultural, and behavioral dimensions of care that every patient and caregiver experiences, in every setting. She argues that as suffering decreases, outcomes improve for patients and those who care for them. A virtuous cycle takes hold, leading to increases in morale, loyalty, and productivity and results in a culture that drives quality, safety, and value. This paves the path for creating a new national healthcare culture—one that values compassion, fosters efficiency, and drives innovation.
CCI is honored to have Christina as part of the CNOR-community. Her leadership and compassion are truly making a difference in the lives of her staff and patients.