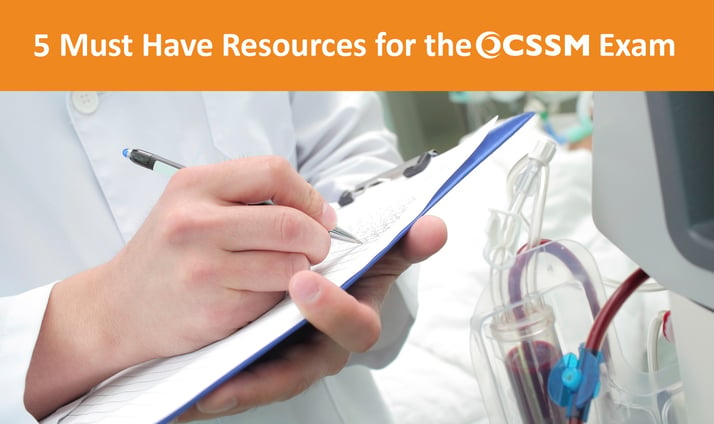 We know how daunting it may be when preparing for any certification exam-- there is so much to review and it is impossible to know exactly what questions will be on the test. How will you know where to begin? Well look no further, because CCI is here to help. We have created a list of the top 5 must-have resources to help you prepare to take the CSSM Exam.
1. CSSM Eligibility Requirements
The CSSM exam is a knowledge-based exam which assesses the knowledge and tasks of surgical service managers with at least two years of managerial experience if CNOR-certified and four years experience if not. Candidates need not have a "manager" title to apply for the CSSM Exam. The credential is for those who are baccalaureate-prepared, and in a management role. This includes those who oversee personnel, budgets, a business unit or service line. Registered nurses in the role of supervisor, coordinator, team leader, or charge nurse; as well as director or manager are eligible to take the exam. Eligibility requirements also include minimum hours worked in the perioperative management role.
2. CCI's CSSM Study Plan
This CCI-created study plan is designed to assist in finalizing your plan of action in preparing for the exam. The study plan is broken down by test subject area, and is complete with reading assignments matched to the national OR manager job analysis on which the exam is based. By identifying areas of strength and weakness, you are able to effectively adjust your study plan to be most beneficial to you.
3. Free CSSM Webinars
CCI hosts free, monthly webinars about the CSSM credential program. The presentation covers everything from eligibility requirements and the application process to exam preparation tips and development of a personalized plan for recertification. The session always concludes with a question and answer period with CCI staff and personal attention to your specific needs.
4. Perioperative Nursing Textbooks
AORN's Guidelines for Perioperative Practice is the evidence-based text for perioperative RNs and the primary resource for the CSSM Exam. The Guidelines, updated annually, help standardize perioperative practice as well as promote safety for both the patient and nurse.
CCI recommends referencing comprehensive perioperative textbooks such as Berry & Kohn's Operating Room Technique or Alexander's Care of the Patient in Surgery when preparing for any perioperative certification exam. The textbook offers a comprehensive look at the basics of surgical principles and techniques.
This comprehensive textbook by Kaye, Fox, and Urman includes an in-depth look at the following topics: OR metrics, scheduling, human resource management, leadership, economics, IT management, quality assurance, and recovery. Written by leaders in the field of OR management this evidence-based textbook is a great resource in preparing for the CSSM Exam.
5. CCI's CSSM Prep Course
CCI offers an interactive 6-week CSSM Prep Course with focused attention from CCI's perioperative experts. Covering all seven subject areas of the CSSM Exam, this virtual course includes 12 hours of instructional classes, interactive activities, and more. With this course you will gain access to practice tests, learn testing strategies and tips, and earn 12 contact hours upon successful completion of the course.
As you can see, there are a wide range of resources available to prepare for the CSSM Exam. Whether you are looking to invest heavily in the preparation process or opt for free resources, we know you will find the perfect fit on this list.