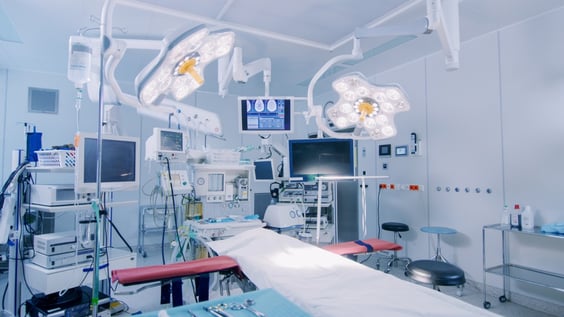 Many professions in the modern era experience a high rate of change and nursing is no different. This is especially true for perioperative nurses, given the challenging environment they face in the operating room. With the continual evolution of technology and recent fluctuation in staff availability, a number of noteworthy trends have begun to develop.
Shortage of Nurses
The simple fact that there will soon be fewer perioperative nurses, and nurses in general, is sadly undeniable. The primary contributing factors to this shortage are: the absence of perioperative-focused courses for nurses during their education and the vast number of nurses preparing for retirement. A report published by the Association of periOperative Registered Nurses (AORN) states, "According to the 2014 Association of periOperative Registered Nurses (AORN) Salary Survey (n=3,437), approximately 13% of respondents were at least 60 years of age; 38% were in their 50s; 27% in their 40s with only 23% under 40 years-old. Sherman found that 64% of perioperative nurses she surveyed plan to be retired by 2022" (AORN Transition to Practice Ad Hoc Committee, 2015). With these alarming statistics ahead, it is essential that the nursing community begin exploring avenues to supplement the upcoming deficit.
Mobile Operating Rooms
Something we are seeing a lot more of are surgical units…on wheels! These units are healthcare code compliant and designed to provide surgical services on-site. Essentially a portable hospital, these mobile surgical units have a variety of key benefits that allow them to be valuable in multiple situations. For instance, they are fully functional and can easily be set-up by one person in an hour. They are also self-sufficient, featuring integrated electricity, plumbing, gas vacuum, nurse call, intrusion alarm, fire suppression, and communications systems. Mobile surgical units are also versatile, being utilized when operating rooms are under construction, to support physicians with insufficient volumes to justify an Ambulatory Surgical Center, to support disaster readiness applications, or to provide care at correctional facilities.
Increased Utilization of Advanced Technology
As we have now entered the digital age, the utilization of technology has increased greatly. Facilities are beginning to implement more technology with the goal of being able to administer care more efficiently while continuing to focus on enhancing patient safety.
Simulation Labs
As previously mentioned, there is a shortage of perioperative nurses. A contributing factor to this issue is the lack of specialized training for emerging nurses. To help combat this, facilities are beginning to introduce simulation labs where nurses can train for real-life operating rooms. Generally, these labs have male and female mannequins and the nurses are given the opportunity to simulate the intricate procedures they may find themselves involved in while working in the operating room. Each session is recorded so that nurses can continue learning after the simulation is complete. Overall, this experience allows nurses to quickly prepare for potential situations within the operating room which will lead to more nurses being able to penetrate the field.
Virtual Operating Room
The Mayo Clinic debuted a virtual operating room in May, with the goal of creating safer and more efficient procedures for patients. Dr. Bendok, a doctor at the Mayo Clinic, stated, "we wanted to bring the best of radiology technology together with the best of surgical technology into a new type of space designed to facilitate minimally invasive and image-guided surgery" (Rodriguez, 2019). Unlike any other of its kind, this operating room can provide scans and mapping that assist with navigation during the surgery through a small incision which furthers the goal of performing less intrusive and safer operations.
Virtual Reality
You may have seen them being used for video games, but have you ever considered them playing a role in your operation? Virtual reality technology is being used before surgery so that doctors can properly prepare for more involved procedures. Newly introduced at Stanford University, a Stanford Medicine neurosurgeon who assisted with the development of the Neurosurgical Simulation and Virtual Reality Center, Gary Steinberg said, "It's as if we have been there before, and it's not a surprise" (Zaleski, 2019). Since more common technology such as CT Scans and MRIs only show so much of the surgical site, this type of technology has become especially helpful.
More trends are sure to surface as technology continues to advance and innovations form to increase efficiency, effectiveness, and patient safety within the operating room. As professionals in the perioperative field, the exigent environment can be overwhelming. Trends that lead to improvements for nurses and patients should always be considered. What trends or innovations have you seen in the operating room that should be added to this list?
References:
AORN Transition to Practice Ad Hoc Committee. (2015). Perioperative Nursing Succession Planning: Theoretical Learning, Clinical Opportunities, and Residences. Association of periOperative Registered Nurses.
Gagis, J. (2019). Simulation Lab Helps Nurses Train for Real-Life Oeprating Rooms. New Jersey : NJTV.
MMIC. (2019). Mobile Surgery Unit. Retrieved from MMIC Website: http://www.mmicglobal.com/MobileSurgeryUnit
Odulair. (2017). Mobile Operating Theatre: The Original Mobile Surgery Unit . Retrieved from Odulair Website: https://www.odulair.com/mobile-operating-theatre.html
Rodriguez, A. (2019). Mayo Clinic Debuts New Virtual Operating Rooms. Phoenix : ABC15 Arizona .
Sadler, D. (2017, April 1). Shift Change: OR Staffing Shortage . Retrieved from OR Today : https://ortoday.com/shift-change-or-staffing-shortage/
Zaleski, A. (2019, January 9). Virtual Reality Gets Real in the Operating Room. Retrieved from Fortune Web Site : https://fortune.com/2019/01/09/virtual-reality-surgery-operating-room/