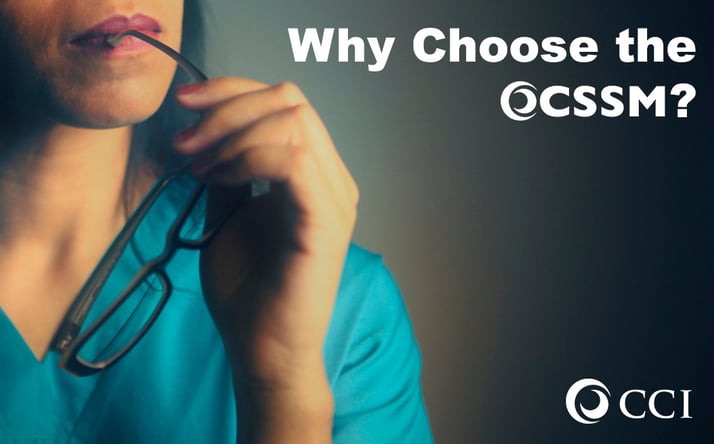 The Certified Surgical Services Manager (CSSM) certification is for perioperative leaders interested in advancing the performance of their surgical services department by improving and validating their managerial knowledge and skills. CCI developed the CSSM credential to recognize the important role managers have in directing staff, programs and budgets in delivering safe patient care. The purpose of the CSSM certification is to provide recognition for the important and distinct role of surgical services managers. But why should you choose the CSSM credential? Aside from it being the only certification for surgical service managers, we have created this list of important reasons why the CSSM credential may be just right for you.
Insight
The CSSM Exam results will give you a snap shot of your knowledge levels on topics essentials to perioperative nurse leaders. This will give you a clear assessment of the knowledge and skills you currently master and which need more attention, allowing you the opportunity to become a better surgical services manager.
Focus
By gaining insight into your current competencies and receiving a recertification plan specific to you, you are able to sharpen your focus throughout certification. Whether you are reading the latest perioperative news or attending educational events, your personal recertification plan will allow you to focus on topics relevant to your needs.
Personalization
The CSSM credential program creates a personalized professional development plan that addresses each individual's competency needs. When taking the CSSM Exam, you will be assessed in seven subject areas pertaining to surgical services management. Based on your individual results, you will have the opportunity to develop a recertification action plan personalized to the specific areas needing the most improvement.
Partnership
As you may know, becoming certified will allow for a closer partnership with CCI, the organization that administers the CSSM Exam. Not only will you be kept up to date on certification news within the perioperative community, but you will also receive information on special professional development opportunities offered by CCI.
Community
To become CSSM certified is to join a growing community of motivated and highly engaged perioperative nurse leaders across the nation. Whether you are networking at a local or national perioperative event, or interacting via social media, emerging yourself into a population of motivated and passionate leaders is a definite way to remain inspired and at the top of your game.
The CSSM credential has been developed by nurse managers for nurses managers, and makes sharpening your skills a priority. By gaining access to opportunities and resources provided by CCI, joining a community of perioperative leaders, and focusing your practice, you will undoubtedly become a better surgical services manager, directly impacting the care provided within your OR.