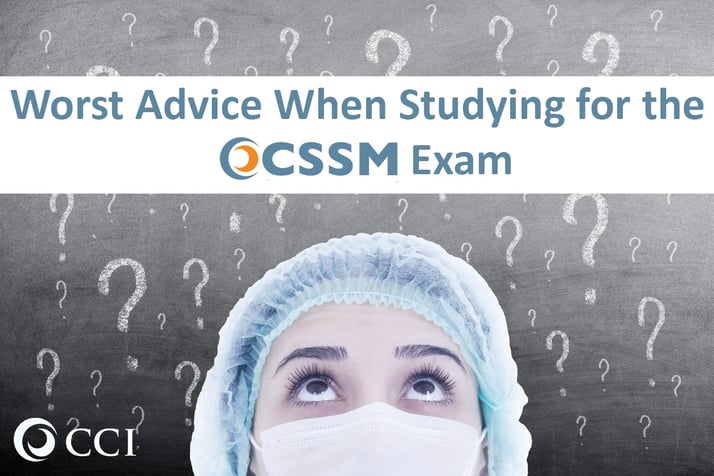 CCI's Certified Surgical Services Manager (CSSM) credential is designed to improve and validate the managerial knowledge and skills of perioperative leaders to advance the performance of their surgical services departments. Preparing to take any certification exam can be an intimidating task, but an entirely new credential? Where do you even begin?! Well to make sure you start off on the right foot, CCI wants to give you a few tips on what NOT to do when preparing for the CSSM Exam.
1. Assuming You're Better off Alone
Relying solely on your personal experience as a basis for your study is a sure way to miss important content that may be on the exam. While your experience is a crucial resource in preparing for the exam, you want to focus your study on all seven subject areas, particularly those you do not practice as often or on a daily basis.
2. CC-Why?
Staying away from the CCI website as you prepare for the CSSM Exam is one of the most crippling things you can do. CCI offers a wide range of exam prep products including the Official CSSM Exam Prep Course as well as free, monthly webinars hosted by CCI staff. This is your chance to study with the administrators of the CSSM Exam and have your questions answered directly.
3. Use THE SECRET
Investing in exam prep materials from groups that promise, "we have the secret to passing the CSSM Exam" is not a great idea. Any product that seems too good to be true, usually is. Instead, we suggest you begin by reviewing our previous post, Top 5 Resources for the CSSM Exam, to determine your study materials.
4. Study Shmudy
Not creating a detailed study plan and taking the exam cold is a gamble. The CSSM Exam is an investment of both time and money that should not be taken lightly. By earning the CSSM certification, you are validating the achievement of demonstrating your current proficiency as a leader in the perioperative setting.
5. CNOR Success = CSSM Success
Believing you will pass the CSSM Exam simply because you have passed the CNOR Exam is not an accurate representation of how you will do. The CSSM Exam is designed for those who oversee personnel, and/or a budget, business unit or service line within the OR while the CNOR focuses on the tasks and skills of a registered nurse with 2 years of experience in the OR.


There you have it; what NOT to do when preparing for the CSSM Exam. However, don't let this deter you. Instead, checkout our recent blog post Top 5 Resources for the CSSM Exam and remember you can always contact CCI directly if you need additional guidance.