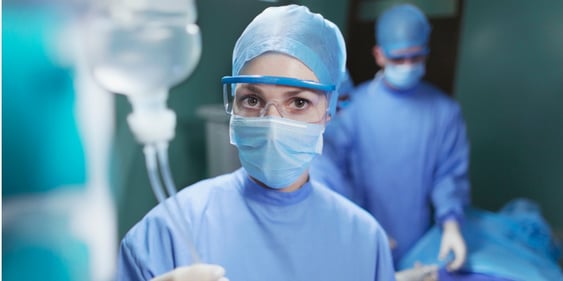 Nurses embark on the journey to earn certification for numerous reasons. Achieving certification validates your knowledge and skills as a perioperative nurse, provides a sense of personal accomplishment, and can advance your career. Certification is an asset to the field of nursing and benefits the entire healthcare community - patients, nurses, managers, hospital administrators, and facilities all see value from perioperative certification.
Overall, certification is highly valued in the perioperative profession. How do you know when it's time to pursue certification? Here are several indications that you are ready to take the plunge!
1. You Care About Providing the Best Care to Patients
The primary goal of certification is to create a culture of increased patient safety and extraordinary care. Certified nurses adhere to the highest standards in their field of practice. By earning your certification, you are committing yourself to enhanced patient care.
2. You're Ready to Take Your Career to the Next Level
According to a 2018 study by AORN, nurses who hold their certification on average earn $1,700 more per year. Earning your certification shows that you are committed, self-motivated, and hold yourself to the highest standards as a perioperative nurse. Passing the exam demonstrates a nurses' mastery of knowledge and the innate ability to apply their understanding to the clinical setting.
3. You Want to Be Part of the Conversation
Preparing for a certification exam requires well-rounded knowledge in all areas of practice. Nurses are pushed to become lifelong learners while pursuing certification. As a result, certified nurses are commonly included in decision-making processes and are considered experts in their profession by staying updated on current standards and best practices. Nurses who hold CCI certifications are also eligible to serve on volunteer committees that benefit the nursing community. These opportunities include educational product creation and the certification development process.
4. You Want to Be Seen as a Leader by Your Peers
Certification allows you to be recognized as a valued member of the perioperative profession. The commitment you display by earning your certification shows your peers that you're dedicated and have achieved competency as a perioperative nurse. Not to mention, attaining your certification can motivate your fellow nurses to follow your example and pursue certification for themselves. Want to serve as a champion of certification once you earn your credential? CCI credential holders are eligible to take part in the CCI Coaches program. Coaches promote certification at their facilities and mentor fellow nurses along the path towards becoming certified.
5. You're Motivated to Be the Best Version of You
Pursuing certification displays a desire to refine one's current practice by enhancing the skills and knowledge necessary for their position. Nurses are also required to continue learning through the recertification process. Earning and maintaining your certification not only shows your employers and peers your dedication to your profession but also provides a sense of personal accomplishment.


All in all, attaining certification provides numerous benefits to patients, nurses, and facilities alike. Certification creates a culture of extraordinary care by allowing nurses to demonstrate their commitment to exceptional patient safety and adherence to current standards. If all signs are pointing toward embarking on the certification journey, then what are you waiting for?