In many ways, certification acts as a compass directing a nurse's clinical practice towards accepted standards. Nurses who attain certification, and the facilities that support them, demonstrate a commitment to improving patient outcomes and mastering the knowledge it takes to do so. CCI created the TrueNorth Award as an avenue for recognizing facilities that use certification to guide their perioperative nursing staff to be models of competent practice, lifelong learners, and advocates for patient safety.
We are pleased to have had the opportunity to sit down with Diana Braswell, the Clinical Nurse Manager, Perioperative Services, at Baylor Scott & White Medical Center in Pflugerville, to the processes setin place by the 2020 TrueNorth winners, which contributed to them receiving the award.
Q. How has your facility supported nurses who are pursuing certification?
Baylor Scott & White Medical Center's leadership encouraged each Pflugerville OR RN to obtain certification in a variety of ways. We paired any non-certified nurse with a certified nurse to serve as a mentor and help them study and prepare for the exam. The department educator purchased the CCI CNOR Exam Prep Book and Flashcards for the nurses to use. Leadership also provided time during scheduled, paid hours for non-certified nurses to study and learn from their mentor. Also, Baylor Scott & White Medical Center – Pflugerville nurses were made aware of a 2- day CNOR test preparation course and allowed them to take the time away from work to travel to Fort Worth for the course. The certification award through Baylor Scott & White Health fully covers the CNOR exam fees and provides some extra money as a bonus on top of that. Baylor Scott & White Health recognizes the importance of personal growth and professional development and celebrates each accomplishment. Co-workers are also very supportive and encouraging as their colleagues prepare for the exam.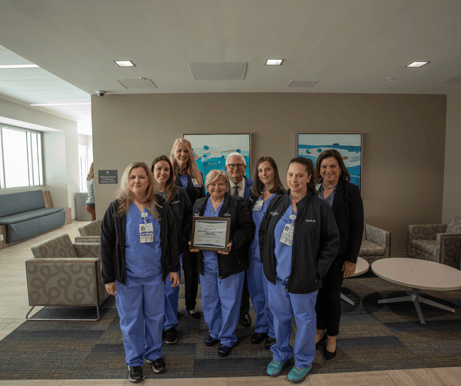 Credit: Baylor Scott & White
Q. In what ways has certification impacted the staff and patients in your facility?
Baylor Scott & White Medical Center - Pflugerville certified perioperative nurses are proud of their achievement and serve as role models to other nurses to elevate their practice. For the nurses, certification has validated their knowledge and continuing competency. These nurses demonstrate confidence, skills, and attitudes that provide the highest quality care to their patients while indicating a deep appreciation and dedication to their profession and community. Certification motivates nurses to seek ongoing learning opportunities ensuring they remain current with evidence-based practice.
Additionally, certification provides value to our nurses, the organization, and the communities we serve. The commitment to excellence is reflected through the Zero Patient Harm Platinum Award that the Perioperative Department achieved and has maintained since we opened on December 1, 2019. The organization consistently achieves patient experience scores exceeding the 90th percentile. Healthcare consumers are more knowledgeable and recognize the importance of nurse certification and the impact it has on their care. Patient comments reflect this confidence.
Q. How does the staff in your facility celebrate the achievements of nurses?
Baylor Scott & White Medical Center hosts a luncheon on Certified Nurses Day. Nurses with their specialty certification within the region receive an invitation through the mail to attend. There is a meal, slideshow highlighting their teamwork, a gift, and a hand-signed certificate of appreciation from their Chief Nursing Officer. In Pflugerville, the nurse manager, CNO, COO, and educator give certified nurses a card signed by their department and leadership, as well as a bouquet of flowers. They do this presentation in the presence of their team. Certified Nurses also wear a "Certified RN" badge that features our Nursing Professional Practice model. Our system provides an RN certification award that is up to $500. Eligibility includes full-time nurses including staff, supervisor, manager, director, and/or executive levels. Part-time and PRN nurses who worked at least 1,000 hours in the last rolling twelve months are eligible. The nurse's performance is required to meet expectations, and he/she must be in good standing. Also, leadership gives appropriate recognition to the nurse in his/her annual performance appraisal. Baylor Scott & White Medical Center - Pflugerville has televisions throughout the facility that run a slideshow highlighting facility news. All staff and even visitors see these announcements. Nurses that obtain their certification are featured with a picture of them with the Director of Nursing. Finally, the facility has received the CNOR Strong recognition, and the plaque hangs in the facility. A CNOR lapel pin is also worn by certified nurses, and they are highlighted on our "Wall of Fame" recognition board with their picture, name, and certification.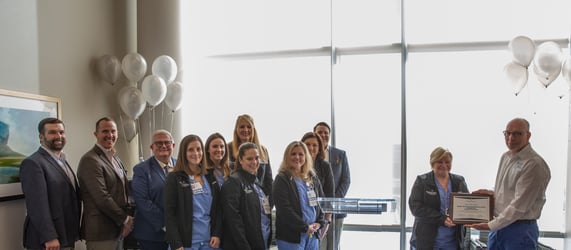 Credit: Baylor Scott & White
Q. Are there any other practices your facility has implemented to encourage and support certified nurses?
Baylor Scott & White Medical Center Austin/Round Rock Region (Pflugerville) is on "The Journey" towards Magnet Designation. This goal is helping to drive excellence, growth, and development of the nursing staff to create an environment supportive of advanced professional nursing practice. At the "Core" of all we do is a deep commitment to the patients and the communities we serve.
Each BSWH staff member is asked to write their own commitment and live out the values our mission is based on. "We are in it together" and "we never settle" are two very important "core" values that encouraged 100% CNOR certification. Organizational and departmental focus is aiding in overcoming certification exam barriers.
Q. Do you have any tips for other facilities looking to earn the TrueNorth award or achieve 100% certification?
First, establish the culture you want in your department and hire new staff that will embrace your vision, while highlighting the value of certification and how it elevates professional practice. It's essential to instill pride in your staff for their dedication and commitment to providing excellent, safe, quality care to patients. Additionally, encourage mentorship and use all the wonderful resources available. We also suggest beginning a journal club to share evidence-based practice and the impact it has on patient care.
Baylor Scott & White Medical Center - Pflugerville, a facility located outside of Austin, TX, is an excellent example of the commitment and support necessary for nurses to attain certification. Through mentorship programs, CNOR study materials, paid study breaks, and time off to travel to prep courses, this facility has set its nurses up for success. Congratulations to this facility that exemplifies the standard for the TrueNorth Award by going above and beyond for their nurses, patients, and community!