CCI believes that registered nurses who have attained certification, and facilities that support the certification goals of their nurses, show commitment to upholding the highest standards in patient care. The TrueNorth Award was created by CCI to recognize facilities that have used certification as a guide for their perioperative nursing staff. Please join us in congratulating Walter Reed National Military Medical Center for their achievement in being named the 2020 TrueNorth runner-up.
Walter Reed National Military Medical Center (WRNMMC) possesses many qualities necessary to be recognized as a leader within the perioperative community. We had the pleasure to sit down with Lieutenant Samina Wilson, previously a perioperative charge nurse with WRNMMC, to learn more about the processes established to promote and support certification.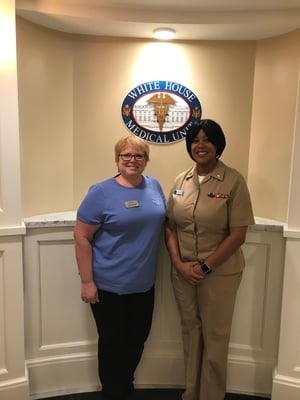 LT Samina Wilson with CCI's Director of Education, Dawn Whiteside
Q. How has your facility supported nurses who are pursuing certification?
New perioperative nurses and those who are not certified are automatically added to the CNOR Certification Monitor Excel, which helps us monitor increases in certification levels and prepare them for certification as they are oriented to the perioperative world. Nurses are granted study time during working hours, depending on staffing and patient care needs. For some, study group sessions are available if requested. All nurses, whether GS or Military status, are also eligible for reimbursement of preparatory courses and certification exam fees after successfully passing the exam. Administrative time is also paid to members while taking the certification exam.
In the past, we have encouraged staff members to take advantage of CCI's CNOR Take 2 Program and continue to urge staff to utilize this program. Within our ranks, we have also had several individuals volunteer with CCI, ranging from CNOR Coaches to members on the CNOR Test Development Committee. Our CNOR Coaches created a lending library with six copies of CNOR Exam Prep books, CNOR Flashcards, and a website page through WRNMMC's Library to the AORN's Guidelines for Perioperative Practice for nurses to utilize while preparing for the CNOR exam.
Q. How does the staff in your facility celebrate the achievements of nurses?
Immediately after passing the exam, the honoree is recognized at the next staff meeting along with an honoree message posted via email, for the possibility of receiving additional congratulations from those who were unable to attend. CNOR nurses are then presented with a CNOR Insignia Honoree Belt, and the honoree(s) name is added to the CNOR poster board along with the rest of his/her CNOR coworkers. Posters are stationed at the Main Operating Room's Front Desk and on the nurse tech lounge wall. We also publish this achievement of obtaining the CNOR in the MOR (Main Operating Room) Unite Newsletter, Navy Perioperative (1950) Specialty Newsletter, and the Navy Nurse Corps Newsletter. During Perioperative Nurse's week, MOR leadership obtained CNOR badge holders for distribution to certified staff and provided daily breakfast, lunch, and gifts from the Directorate of Surgical Service staff. The Chief Nursing Officer (CNO) serves as a guest speaker and leads the Certified Nurses' Appreciation Day activities. The CNO highly covets and encourages all certifications to strengthen nursing practice. Refreshments, cake, prizes, and educational materials on obtaining certification are also provided during this time.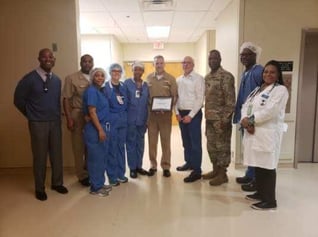 CCI's CEO James X. Stobinski presenting staff at Walter Reed National Military Medical Center with their plaque.
Q. In what ways has certification impacted the staff and patients in your facility?
Certification has benefited staff in awards that are both tangible (bonuses, paid time off, gifts) and intangible (recognition, pride). Promotion potential to the next military rank is greatly improved as our professional expertise is validated. In terms of bonuses, unit managers offer a yearly bonus of $400 to civilian nurses, while military nurses are offered bonuses ranging from $10K to $35K per year, depending on years of continued service. WRNMMC was able to send a total of 21 staff members to attend the 2019 AORN Surgical Conference and Expo. During the last 2019 AORN Surgical Conference and National Capital Region Conference Symposium, WRNMMC MOR nurses contributed a poster presentation titled "Incorporating ERAS Protocols in TeamSTEPPS for Better Patient Outcomes Staff." The presentation identified preoperative and intra-operative practices as key components, ensuring the successful implementation of ERAS protocols. Through recognition and increasing numbers of CNOR certified nurses, this alone has motivated pride and retention in the Main Operating Room, with staff extending time in the military as a perioperative nurse by 20% and civilian nurses staying within the facility, including new staff on board. Since 2014, the MOR has produced 38 new CNOR nurses, and in the last three years, held CCI's CNOR Strong recognition. The MOR produced 24 Masters, Bachelors, and Associate degree graduates, as well.
Patients have also considerably benefited from certification efforts. Following a successful transition to centrally managed modified block scheduling, MOR staff have presented on the transition to optimize block time use and surgery utilization, while maintaining after hour cases. WRNMMC was also recognized as a five-star rated medical center from the Scientific Registry of Transplant Recipients. Additionally, WRNMMC has made strides in improving nurse satisfaction, retaining the best nursing staff, cultivating inter-professional teamwork, and champion high-quality nursing practice, all of which benefit the patients. Not to mention, WRNMMC has been able to benefit patients by altering processes that result in increased satisfaction. Such as, decreasing surgical site infections (SSI), impacting normothermia by pre-warming patients preoperatively, applying silver thermal bouffant and bear hugger warmed blankets throughout all perioperative phases, decreasing patient wait times intraoperatively for specimen needle/loc results, impacting the exposure to anesthesia medication a patient has, and increased wound healing time. Perioperative Quality Committee (PQC) team's impact resulted in seven Lean Six Sigma process improvement projects, 18 initiatives, a new IPASS Protocol, Intraoperative SBAR, and Pre-OP Hold Interview per commination tools. Additional projects include orthopedic fall prevention, pediatric weight recording, tissue tracking, pressure injury prevention, OSA policy, and sterilization quality assurance.
Walter Reed National Military Medical Center is an outstanding example of a facility taking strides to improve their processes and encouraging nurses to be the best they can be. Their willingness to support staff in their certification efforts through resources, time, and reimbursements makes all the difference!